Los MoveDays se superan en cada conferencia.
(The MoveDays are overcome in every conference)
Esta iba dirigida a "Coolhunter trendtracker", la primera de todas estas conferencias en la que no he hecho ninguna pregunta porque Pagoa Larena explicó todo estupendamente.
[This one was directed towards "Coolhunter trendtracker", the first of these conferences in which I have not asked any questions seeing as Pagoa Larena explained it all wonderfully.]
¿Qué es un Coolhunter? Empecemos por qué es, para los despistados.
En español sería un cazador de tendencias, digamos que es un "observador" de la moda, que identifica los estilos que se llevarán en un futuro. (Si alguien quiere corregirme mejor, no soy muy puntera en explicarme).
[What is a Coolhunter? Let us start by explaining why it is for the clueless.
In Spanish it would be a trend hunter, as to say a fashion "observer", indentifying styles that may be worn in the future. (If someone wishes to correct me, go ahead, I am not all that good at explaining myself).]
Pero vamos a lo importante, el conferenciante y lo que dijo.
[Anyway, towards what is important; the speaker and that which he spoke of.]
Pagoa Larena vive actualmente entre las dos grandes ciudades españolas (Madrid y Barcelona), aunque él es de Bilbao. Empezó estudiando Ingeniería Informática pero se dio cuenta que aquello no se gustaba por lo que empezó los estudios que le llevarían a lo que es hoy: postgrado estilismo de moda, postgrado de Coolhunting y un máster de especialización en Coolhunting (+info). Desde el 2008 ha colaborado con marcas como Sita Murt, Tommy Hilfiger, Pepe Jeans o Amichi. Ha realizado ponencias en el Salón Internacional de la Moda de Madrid (SIMM) y para asociaciones téxtiles como Acotex o Fagepi. En la actualidad, además de su actividad como coolhunter colabora con diferentes medios de comunicación como Attitude4business e imparte clases en el Istituto Europeo di Design. (+info)
[Pagoa Larena nowadays lives intermittently in the two greatest Spanish cities (Madrid and Barcelona), although he was born in Bilbao. He begun by studying Computer Engineering but found out he did not really like it and so he started the studies which would make him be what he now is: a graduate in fashion styling, a graduate in Coolhunting and a master's degree in Coolhunting. Since 2008 he has cooperated with brands such as Sita Murt, Tommy Hilfiger, Pepe Jeans or Amichi. He has done conferences at Madrid's International Fashion Show (SIMM) and for textile associations like Acotex or Fagepi. Recently, apart from his activities as a coolhunter he also collaborates with various media companies, such as Attitude4business, and offers classes at the Istituto Europeo di Desing. ]
En la conferencia tocó dos temas: la moda y el coolhunting. Desde luego apunté tantísimas cosas que no sé si debería publicarlas de la misma manera que las anoté, sigo con esa tendencia de "apuntes", mas voy a intentar hacerlo algo ameno.
[In the conference he spoke of two issues: fashion and coolhunting. I honestly made so many notes, I do not know if I should publish them in the same way I have them. I still grasp that "notes" tendency, yet I will try to make this somewhat light.]
Bueno para la moda utilizó una cita de G. Simmel: "modificación obligatoria del gusto". La moda es además un sistema de reglamentación de los mecanismos de elección, cambios rítmicos de las costumbres y del gusto colectivo. Se manifiesta en vestimenta, arte, literatura,… Sirve de cohesión social, las personas actúan mediante imitación recíproca y tácito acuerdo.
La formulación de las tendencias en moda reducen el riesgo de la no-venta y la producción no-acertada. Esta tendencia se mueve porque la sociedad está influenciada por la "Ley del movimiento perpetuo", esta innovación implica que: Conocimientos pasados + Conocimientos presentes = Conocimientos futuros. Mientras más rápido sea este movimiento más efímera es la moda.
[Well, in respect to fashion, a quote from G. Simmel: "obliged change of taste". Fashion is also a regulative system for them mechanisms of choice, rhythmic changes of habits and of collective taste. It is stated by clothing, art, literature… Used as a social cohesion, people act by means of reciprocal imitation and tacit agreement. The development of trends in fashion lessen risks like non-selling or non-guessed production. The tendency flows because of society's influence by "The Law of perpetual movement", which implies that: Old knowledge + Present Knowledge = Future Knowledge. The faster this disposition is the more transient fashion is.]
El ejemplo del NU-RAVE, vino por el progreso de esta rapidez por las redes sociales y como este estilo de fiestas ilegales pudo integrarse en Louis Vuitton
[The NU-RAVE example came into the discussion thanks to the new velocity of social networks and how these illegal types of parties were able to incorporate themselves in Louis Vuitton.]
Hace poco más de dos décadas imperaba el modelo de dos colecciones por año, y llegó la revolución (la moda más rápida) por lo que las firmas de alta costura tuvieron que aumentar de dos a ocho sus colecciones anuales. Los establecimientos crearon ej just in time, pues cambian las temporadas dos veces por semana.
La moda tiene también un ciclo de vida de tres fases: manifestación (tímida aparición), asimilación (aceptación) y generalización (saturación).
A estas alturas las anécdotas eran parte de la conferencia, su paso por los "pantacas" anchos a los pitillos, y ese divertido mote de "Borja Mari" para los preppy y el inolvidable comentario del chico popular de su instituto a como es ahora.
[Little more than two decades ago the two collections per year standard prevailed, but soon came the revolution (faster fashion) through which the couture brands had to increase their two yearly collections to eight. The establishment created the "just in time", seeing as they changed season twice a week.
Fashion also has a three fazed life cycle: manifestation (a shy emergence), assimilation (acceptance) and generalization (saturation).
At this point tons of anecdotes were part of the conference: his transition from wide trousers to skinny ones, that funny nickname for all those "preppy", "Borja Mari", and the unforgettable comment from the "popular schoolmate" in reference to what he is now.]
Ah, escribió un capítulo en el libro Coolhunting digital
[Oh, he wrote a chapter for the digital book Coolhunting]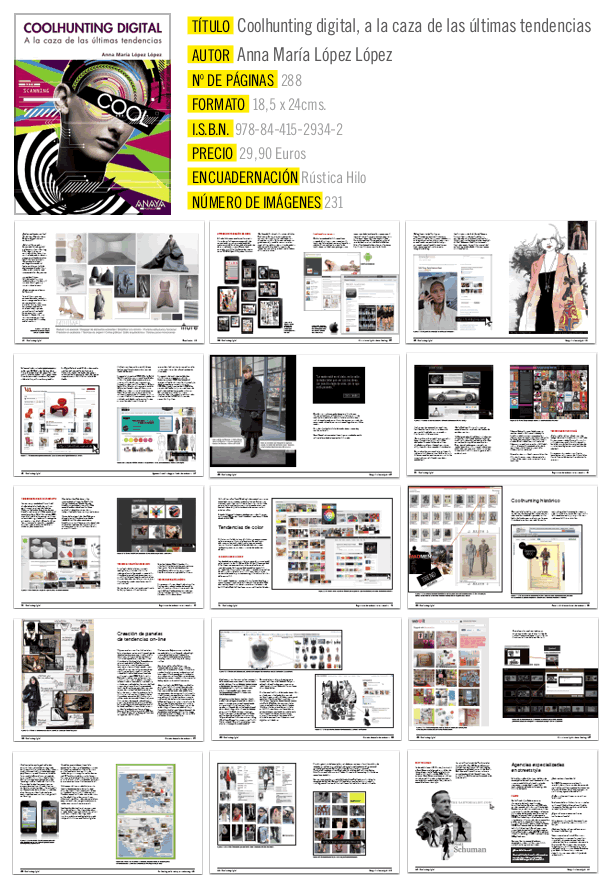 "La personalización que puede registrarse a través de la etnografía de lo cotidiano. Investigando los espacios urbanos y la calle"
Por cierto, ¿qué fue primero, el huevo o la gallina? Porque si los diseñadores se inspiran de la calle y la calle de los diseñadores…
"The personalization that can be registered through daily ethnography. Investigating urban spaces and the streets."
By the way, what was first, the egg or the chicken? Because of designers are inspired by the streets and the streets are inspired by designers…
Y ahora el resto de fotos ;D
[And now, the rest of the pictures]
Love!
Gracias Mali por la traducción